Brooklands Lewes
Brooklands Southover High Street
Tel: 01273471598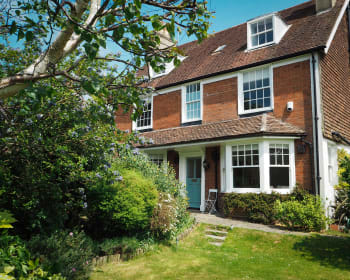 Facilities
Breakfast Room
Early Breakfast By Arrangement
Internet Access
Lounge
Luggage Storage
Policies
Check In: Between 15:00 and 19:00
Check Out: Between 8:00 and 10:30
Wi-fi: Wireless internet is available and is free of charge.
Smoking: There is no smoking permitted anywhere within the property.
Parking: Parking for all guests is available on site and is free of charge.


Children: All guests must be 18 or over, no children are allowed.
Pets: Pets are not allowed.
Groups: Groups are accepted up to a maximum of 4 people. No stag and hen groups.
Average
4.9
out of 5
27 reviews
100% recommend
Reviews
24th September 2018:

Mioya is an excellent host. We were warmly welcomed and well looked after during our week's stay. The room and en suite were large and spotlessly clean and the breakfasts tasty and plentiful. The short walk in to Lewes was pleasant and easy, if you can avoid the steep climb by walking round the long way via the station!
Tips:
Anne os Cleves House is a must if you are interested in history, as is the Priory. We did not manage to do the Castle - that's for the next visit. VBrighton and Eastborne are easily accessible by bus and train for a day by the sea. The Swan Inn serves good meals and the atmosphere there is friendly and welcoming.
Would Recommend: Yes
16th September 2018:

Tips:
The Swan provides good food and is only a few minutes walk away
Would Recommend: Yes
13th September 2018:

lovely cooked home made breakfast.
Tips:
short walk into town to visit all the historical sites and antique shops.
Would Recommend: Yes
9th September 2018:

Brilliant communications prior to arrival. Excellent accommodation and breakfast. Very friendly and welcoming. Traffic noise from road could be intrusive but we slept well.
Tips:
The Swan pub 200 yards away provides very tasty reasonably priced food and very well kept beers. Lewes centre is within easy walking distance. We visited the Seven Sisters on the coast and walked four of them! Easy access to South Downs for sight seeing and walking.
Would Recommend: Yes
1st September 2018:

Quiet location , Good Food Helpful, nice place to visit ,
Tips:
Lewes has a variety of places and old buildings especially arts eating out at Shellys Hotel was a good experience
Would Recommend: Yes
30th August 2018:

Would Recommend: Yes
7th August 2018:

Excellent, very helpful.
Tips:
Great, easy access to South Downs and Brighton.
Would Recommend: Yes
31st July 2018:

We enjoyed our stay in Brookland Lewes so much. Moya is a very kind and helpful host.Breakfast was fantastic and interior design very stylish, bathroom is amazing. Everything is perfectly clean. House is located nearby a street ( that is why rated only 4) but therefore all the attractions are nearby and comfortable to be visited by walking. Whenever we will travel to that Region we will come again! Thank you so much Moya for a wonderful stay!!
Tips:
Perfect place for visiting Glyndebournde Opera Festival, Brighton, Seven Sisters and others
Would Recommend: Yes
12th July 2018:

We had a lovely comfortable stay at Brooklands. It was so nice to be near the centre of Lewes and yet it was quiet and peaceful.
Tips:
Short walk to the centre of Lewes Great walking tours of the town The Swan pub and Pelham Arm just a short walk away
Would Recommend: Yes
6th July 2018:

Home away from home, excellent breakfast, warm host.
Would Recommend: Yes
4th June 2018:

A beautiful home to base yourself. Great breakfast, beautiful room.Cannot recommend enough.
Tips:
host provides lots of helpful info and tips. The Swan Inn (2 mins walk) great food and great Pub.
Would Recommend: Yes
30th May 2018:

Great breakfast, wonderful shower. Pleasant place to stay while in Lewes.
Would Recommend: Yes
29th May 2018:

We would definitely recomend Brooklands. We were made very welcome. Room very comfortable. Bathroom huge and extremely well equipped. Breakfast first class. A very enjoyable stay in a stylish and attractive house.
Tips:
The Grange just off Southover High Street is a must visit - beautiful gardens. Bill's in Cliffe excellent for food.
Would Recommend: Yes
18th May 2018:

We enjoyed 2 nights at Brooklands midweek receiving a warm welcome from Moya who made us feel right at home. This is such a beautiful house inside and out. Very stylish understated decor which was just our taste - lovely to look at but with a relaxed feel. I was taking notes and getting ideas for home. Our room was stunning - sunny and bright and overlooking the pretty garden. The bathroom was vast! A fabulous walk in shower and huge freestanding bath to luxuriate in after a day exploring Lewes. Moya makes the most delicious breakfasts and was more than happy to share her love of the surrounding areas with us with tips and maps. Thank you so much for making our stay just perfect :-)
Tips:
The Swan pub just round the corner is a great place for a hearty meal - friendly service and a buzzy vibe and they play their eclectic mix of vinyl with the cover propped up on the bar so you can identify any favourites. We'd recommend doing the guided tour of Charleston - and pop over to Berwick Church - to get a real insight into the Bloomsbury group.
Would Recommend: Yes
17th April 2018:

Great place to stay, friendly and helpful host. My husband and I ran the Brighton Marathon on Sunday and Moya kindly made us an early breakfast (porridge at 7am) which was much appreciated.
Tips:
Great place to stay, lots of places to visit in Lewes and surrounding area. Easy train ride into Brighton. Lots of places to eat and drink. Will definitely stay there again. Thought it was better than staying in Brighton which can be very crowded and manic, it was great to head back to Lewes after a busy day in Brighton and relax in Brooklands garden with a cup of tea and a slice of homemade cake. Perfect! Thank you Moya
Would Recommend: Yes
11th April 2018:

Brooklands was excellent! Moya was the perfect host. Great communication beforehand. Moya gave us some tips and help with finding our way around Lewes. The house is beautiful and very clean. The food was great , and we were well looked after with plenty of Vegan options. We'll be back! Thank you Moya
Tips:
Some of our favourites. The Swann Inn which is a really nice pub , 30 seconds away from the house.Great food and beers. They play vinyl albums at the bar, always a good sign. The Ann of Cleves House Museum is very close to the house also. The Castle is great, you get a great view of Lewes and the surrounding area. Walks on the South Downs - While slightly muddy when we stayed , the area is beautiful and definitely should be explored.
Would Recommend: Yes
23rd November 2017:

We had an excellent stay. The accommodation was superb - spotless, comfortable and very stylish, with a bathroom to die for. Breakfasts were also excellent. Moyà was very friendly and sent us information about restaurants, etc prior to our visit. We would definitely recommend Brooklands and look forward to visiting again.
Tips:
The house is ideally situated for walks on the South Downs, pleasant drives to the coast or an easy walk to the shops and railway station.
Would Recommend: Yes
2nd November 2017:

Would Recommend: Yes
8th October 2017:

Moya is an excellent host both warm & welcoming. Her breakfasts are excellent , both the cooked & continental. Staying at Brooklands was a most enjoyable way to spend my first days of living in Lewes.
Would Recommend: Yes
8th September 2017:

Fantastic breakfasts served and very comfortable bed and bathroom facilities. Useful information provided by Moya.
Tips:
Visit The Depot for the cinema and a drink/dinner after - great atmosphere. The Flint Owl Bakery is a good place for a coffee and bun but it gets busy. Le Magasin in the Cliff area is a great place for lunch/dinner. Easy to park at the station and catch the train to Brighton (11 min).
Would Recommend: Yes
6th September 2017:

Warm and friendly welcome from host Moya, fantastic breakfast. Great location to explore centre of Lewes and also walking routes. Spotlessly clean throughout, shower was great and a lovely big bath too. The room felt spacious, plenty of storage and included a very informative guide by the hosts. Will definitely be recommending to friends and family.
Tips:
Anne of Cleves house and castle for history fix. Lots of great local shops. Particularly liked Flint Owl bakery for tea and cake stop.
Would Recommend: Yes
23rd August 2017:

A really lovely place to stay - we wished we could have stayed another night and done some walks.
Would Recommend: Yes
20th August 2017:

Elegant residence,well kept to a high standard,extremely comfortable and very clean. Delighted with our room and the ensuite bathroom. Breakfast was beautifully presented and well cooked,very satisfying. Our hosts were welcoming,friendly and kind and we thoroughly enjoyed our stay. Can't wait to return. Highly recommended.
Tips:
Try to do some of the local walks,scenery is beautiful and people are warm and friendly.
Would Recommend: Yes
22nd July 2017:

Very friendly and helpful host.
Tips:
The Swan is very handy, almost just across the road.
Would Recommend: Yes
17th June 2017:

Would Recommend: Yes
20th May 2017:

A beautiful old house. Facilities excellent. Decor beautiful. Thoroughly enjoyed my stay
Tips:
Even with good directions, the house was difficult to find whilst driving, it is on a main road as you would expect with a house of this age. Excellent local pub. Lewes is a charming town, surrounding area is lovely.
Would Recommend: Yes
Owner Response:
Thankyou for your kind review. Looking forward to seeing you again soon.
9th May 2017:

Loved this place - were warmly welcomed on arrival. The room was spotless,very comfortable with an enormous bathroom and luxury roll top bath.Hosts have tips for exploring the area, and local walks.
Tips:
Great for Glyndebourne, and places to visit. The local pub, the Swan, is a really friendly place with good food. Walks can be taken from house to the South Downs within minutes.
Would Recommend: Yes
.