Amarisa Bed and Breakfast
Station Road Berwick
Tel: 01323870555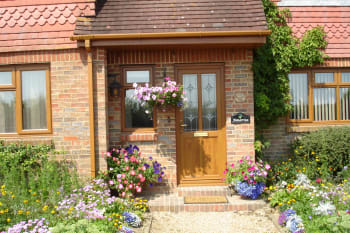 Amarisa Bed & Breakfast is a lovely Sussex-tiled house, with open fields & naturalised wood, in the beautiful East Sussex countryside, just 1.5 miles from the South Downs National Park, an Area of Outstanding Natural Beauty. Ideal for walking and cycling. Pub serving good food & train station a short walk from B&B. 1 twin en-suite & 2 double rooms with private bathroom. Breakfast served in the conservatory during summer. Free parking & WiFi. English & French spoken. Discounts on website for off-peak weekdays & winter months. The English town of Lewes and seaside towns of Brighton, Seaford & Eastbourne are a short drive as are Charleston Farmhouse & Monk's House. Many delightful gardens & historic properties: Michelham Priory, Bateman's (Rudyard Kipling's home), Sheffield Park, Sissinghurst & Great Dixter are close by, as are Glyndebourne in Glynde, Herstmonceux and Universities of Brighton & Sussex. Gatwick Airport approx. 1 hour, Newhaven 20 minutes, ideal for our overseas visitors.
Availability
There are no rooms available at Amarisa Bed and Breakfast
for these dates.
Please try other dates or select a
different property
.
rooms
Facilities
Downstairs Disabled Access Shower
French Spoken
Good Local Tourism Knowledge
Breakfast Room
Conservatory
Courtyard
Early Breakfast By Arrangement
Garden For Residents' Use
Internet Access
Drying Facilities
Luggage Storage
Packed Lunch By Arrangement
Disabled Parking
Policies
Check In: Between 16:00 and 21:00
Check Out: Between 7:30 and 10:30
Wi-fi: Wireless internet is available and is free of charge.
Smoking: There is no smoking permitted anywhere within the property.
Parking: Parking for all guests is available on site and is free of charge.


Children: Children aged 5 or over are welcome.
Pets: Pets are not allowed.
Groups: All groups are accepted.
Average
4.8
out of 5
72 reviews
99% recommend
Reviews
23rd October 2018:

Lovely friendly B&B breakfast cooked to order and delicious Having fresh milk for tea in our room always a bonus
Tips:
Farley's Farm Charleston Berwick Church Monk's House all well worth visiting Local pub The Plough good food
Would Recommend: Yes
14th September 2018:

Amarisa b&b,s owners are very good they keep itvery clean and tidy.breakfast is great.
Tips:
good pub food just a few yards,a good number of seasides place within an hour ride,there are some walks.
Would Recommend: Yes
10th September 2018:

The only thing I found a little difficult was having to decide what I wanted for breakfast, the next morning, the day before. Katie and Paul were very helpful regarding places to visit, or eat, along with directions. A very nice couple. Teddy, their dog, was an absolute pleasure.
Tips:
The food at The Cricketers, locally, was excellent. Alfriston is well worth a visit, as is Birling Gap. Lewis is a lovely town.
Would Recommend: Yes
9th September 2018:

Katie and Paul are the most wonderful hosts, I could not have been made to feel more welcome and cared for. Thank you.
Tips:
So much to see and do in this area. Absolutely beautiful walks and in addition to Glyndebourne Opera, there is a high concentration of cultural establishments and gardens. Farleys Farm (Home of the Surrealists) being a particular favourite plus Monks House and Charleston. Berwick Church, Firle Church and Glynde Church with its wonderful Wildflower church yard project. Lovely tea room at the Post Office at Glynde. Cuckmere Haven and all of the surrounding natural beauty Spots including the Long Man of Wilmington. The Cricketer's at Berwick, The Ram at Firle are both excellent pubs. Lewes is the nearby County Town and a brilliant place to visit too.
Would Recommend: Yes
Owner Response:
It's been such a pleasure to have you stay with us. You will always be most welcome here and thanks for the great review.
3rd September 2018:

Easy access from train station, excellent company (Katie and Paul) were nice, considerate and extremely professional. The place is spotless, the beds very comfortable. I would highly recommend
Tips:
I would highly recommend
Would Recommend: Yes
Owner Response:
Thank you Musaab and Tamara. It was a true pleasure to look after you. Lovely guests.
16th August 2018:

Made me most welcome. The room was comfortable and attractive to stay in.
Would Recommend: Yes
12th August 2018:

Katie, Paul an their cute dog Teddy are very friendly and easy going. They gave us lots of recommendations about nice places to visit and eat etc. We really enjoyed our stay there and would definatly stay there again.
Tips:
Local Pub Berwick Inn with lovely food, drinks and staff. Trainstation is just a 5 minutes walk away, so it's very easy to go to Brighton and other locations.
Would Recommend: Yes
4th August 2018:

Katie and Paul were extremely lovely and helpful. They do this B& B with all their heart, we also loved Teddy, the little dog. They were easygoing, helpful, brought us tea after a long day, it was just lovely. We stayed for one week and it felt every day a little bit like coming home.
Tips:
If you don't want to got far eat in the Berwick Inn, where they have very friendly staff and nice food. There is not a huge menu but nice and good food. Visiting Alfriston (Clergy House) or the seven sisters or the seafront. You can get anywhere. Don't miss to go at the farmers market.
Would Recommend: Yes
Owner Response:
It was so lovely having you both to stay. Thank you for the review. Maybe we will see you again one day. Best wishes Katie
29th July 2018:

Katie and Paul were natural hosts who made us feel comfortable, inviting us for a cup of tea on their patio. Room was spotless, and the breakfast was tasty and substantial
Tips:
Berwick Inn is 100 metres away, and does good food.
Would Recommend: Yes
16th July 2018:

Very friendly, Katie even helped us paying the toll of the dartford passing.
Would Recommend: Yes
12th July 2018:

Would Recommend: Yes
11th July 2018:

Very friendly welcome and well situated for exploring the area
Tips:
Good food to be had at the local pub by the railway
Would Recommend: Yes
2nd July 2018:

Very friendly hosts. Road along the house rather busy.
Tips:
Very good pub nearby.
Would Recommend: Yes
29th June 2018:

Katie and Paul could not have been more welcoming and they went to great efforts to make our stay in their lovely home a pleasant one. (We also got a warm welcome from their gorgeous dog Teddy!). They also recommended a great walk and kindly lent us walk book and map.
Tips:
The main purpose of our visit was a trip to Glyndebourne but we also enjoyed a couple of great local walks (one from Firle up to Firle beacon and another from Berwick to Alciston). We did the guided tour of Charleston farmhouse which was fascinating.
Would Recommend: Yes
Owner Response:
So glad you had lovely time and thanks for taking the time to write us such a wonderful review.
24th June 2018:

Very friendly and welcoming. Very comfortable room and excellent breakfast. In general all you would want from bed and breakfast accommodation and more.
Tips:
Very handy for Glyndebourne.
Would Recommend: Yes
Owner Response:
Thank you for your very kind review, It was really lovely to see you again and we are so glad that you enjoyed your stay and your visits to Glyndebourne. Best wishes to you both Katie & Paul
19th June 2018:

excellent hospitality and comfort
Tips:
visited local friends and lovely visit to Pashley Manor Rose festival
Would Recommend: Yes
29th May 2018:

Kate and Paul provide clean accommadation, a very nice breakfast and nothing is to much
Tips:
plenty of nice places seaside etc close to rail station where you can get a train to most places.
Would Recommend: Yes
22nd May 2018:

Very nice overnight stay, lovely house and gardens. Hosts very welcoming and helpful, good to have a chat with
Tips:
A short drive to South Downs ,Alfriston, Lewes, and Eastbourne a wonderful area for walking
Would Recommend: Yes
Owner Response:
It was lovely to meet you and thank you so much for your kind review.
4th May 2018:

Very friendly people. Good communication before arrival. Room was perfect with comfy bed, hot shower, with real shampoo. Good tv and coffee making facility. Excellent free wi-fi connection. Breakfast- perfect. I could choose my time. Great choice of items as well as fresh real coffee, juice etc. Owners were brilliant in every way. I've stayed twice now and will stay again if working in that area.
Tips:
Berwick Railway station is 200m up the road as is The Berwick Inn which serves great food and lovely beer. Highly recommended. It's also only 3 miles from Bede's School should you need a place to stay while visiting there.
Would Recommend: Yes
Owner Response:
Thank you so much Jon for writing us such a lovely review. Really enjoyed your visit and hope you're able to return sometime. Best wishes Katie
2nd November 2017:

Katie & Paul were so friendly and helpful. Wonderful hosts. The only reason that I would not recommend this B & B to friends is the lack of an en-suite. Had the place been full we would have disliked sharing the bathroom with others.
Tips:
Take the train into Lewes. Interesting place to walk around. Also take an early morning walk around the reservoir. Really beautiful.
Would Recommend: No
Owner Response:
Dear Jeff Thank you for your review. It is our practice to only fill both the upstairs rooms if guests know one another and are happy to share the private bathroom. That is why we declined other requests during your stay. Our booking engine makes it clear that the Woodland View double room has private facilities not shared with us . The downstairs room is ensuite but was taken by your friends on this occasion. We are glad that you enjoyed your stay.
13th October 2017:

This B&B is EXCELLENT in every respect. First, it is within 200m of Berwick railway station, and same distance from The Berwick Arms which served me a brilliant evening meal. Secondly, the owner is extremely friendly and I felt at home from the minute I arrived. She was also great on communication when I emailed to say I was a vegetarian - and replied immediately. Thirdly, my room was accommodating in every way and as clean as a new pin! Tea & coffee facility. Gorgeous hot shower (with lovely choice of big bottles of shampoo - I chose strawberry). Super fast Wifi was great for the work I was doing. TV and desk for working. Curtains AND blind in case I wanted it pitch dark. Double glazed windows. Comfy bed with luxury pillows. Bedside lights that dim if needed. Finally, breakfast! I was able to choose in advance and also choose time of serving. THe meal was perfect, with lovely extras such as caffetiere coffee (decaf as requested), lots of toast, local farm-made marmalade with proceeds going to an African school charity. I am working in the area twice next year and will not consider looking anywhere else for somewhere to stay. PERFECT and THANK YOU for a lovely stay.
Tips:
The B&B is 200m from lovely pub (food & beer top quality - it is also a coffee shop & stores in the day). The pub is right opposite Berwick Railway station on the line from Lewes to Orr.
Would Recommend: Yes
Owner Response:
Thank you John for this very kind review. It is much appreciated and we look forward to seeing you next year.
12th September 2017:

Friendly hosts. Lovely breakfast. Clean and comfortable
Tips:
Local pub food very good and reasonably priced
Would Recommend: Yes
10th September 2017:

Excellent hosts. Very pleasant company. Cuddly dog.
Tips:
Berwick Inn just 100 yards away. Great pint of Harveys and excellent food.
Would Recommend: Yes
4th September 2017:

Our room (English Rose-twin en suite room) was situated on the streetside. Cars were heard passing by (most of the time) when window is open. It's a great place for dog-lovers. Katie was a lovely host who provided us with delicious breakfast and many cups of tea. She also gave us a lot of information about the area and was very helpfull when we needed a place to eat on the night of arrival.
Tips:
Berwick-Inn: good place to eat! In the nabourhood of Amarisa! The reservoir: good walking. Also in the nabourhood. Berwick-Church: lovely little church with paintings from the Bloombury group. You can walk a lot through the lovely glowing meadows to other villages
Would Recommend: Yes
30th August 2017:

Tips:
perfect for the South Coast Challenge participants and the taxi from here to Princes Park was 15.00 if you are doing the quarter challenge get the shuttle bus to drop you at Berwick station
Would Recommend: Yes
21st August 2017:

It was literally home from home. We were made very welcome and felt immediately at ease. We had a great two nights' sleep on such comfortable beds. Teddy dog enjoyed Martyn's socks.
Tips:
We went to both local pubs and enjoyed the meals. The Plough perhaps had the edge but we were hungry and grateful for the meal at the Berwick Arms. The area is great for walking - the South Downs have incomparable views. We came specifically for Airbourne and were able to travel in and out of Eastbourne on public transport.
Would Recommend: Yes
14th August 2017:

Would Recommend: Yes
14th August 2017:

Katie Ely and Paul have been wonderful with us (a family with two kids), attentive to every need or request. The rooms were somewhat small but sufficient to accommodate two in each. The smaller room also had a wonderful view. The English breakfast was very nice and the conservatory in which we had it was the perfect location.
Tips:
We had a wonderful walk at Arlington Reservoir, a 5-minute drive from the B&B.
Would Recommend: Yes
10th August 2017:

The owners were very kind and helpfull. They have a friendly, enthousiastic dog. Great English breakfast. Although according to the legal definition for Bed and Breakfast 'a private bathroom' (as mentioned at the booking site) is one that is not shared with the owners, it suggests that as a renter you are the only user of it, which is not the case at Amarisa.
Tips:
I recommend The Plough, a pub / restaurant just a few miles from Amarisa. There are excellent walks in the environment, for instance the one to the Seven Sisters. Having a glass of wine with the owners is also pleasant.
Would Recommend: Yes
2nd August 2017:

we found this b&b to be very nice, comfortable beds, good breakfast, hosts very nice.
Tips:
good pub 100yds,large water lake 100 yds,Toby restaurant in area also Mcdonalds,lots of walks
Would Recommend: Yes
31st July 2017:

Heel leuke b&b. Sympathieke gastvrouw en -heer en ideale ligging om de omgeving te verkennen.
Would Recommend: Yes
16th July 2017:

Very well designed cosy ensuite. Very friendly agreeable hosts.
Tips:
Try lunch at the cafe/shop in Upper Dicker
Would Recommend: Yes
21st June 2017:

We were made very welcome.
Tips:
Berwick Church, Monks House, Charlston and Alfriston are all well worth a visit. And the coast of course.
Would Recommend: Yes
19th June 2017:

A very friendly welcome, and extremely accommodating hosts considering that I needed to leave extremely early in the morning.
Would Recommend: Yes
13th June 2017:

Just a big thank you. I was far from the ideal guest, being how I was down for a wedding, and therefore didn't get back until late. You were incredibly accommodating though, and I thank you for that
Tips:
The Berwick inn nearby does surprisingly excellent food
Would Recommend: Yes
10th June 2017:

We thoroughly enjoyed staying here. It was extremely comfortable and our hosts Katie and Paul very helpful and friendly. The location is excellent for visiting numerous sites of interest in the area (eg Charleston Farmhouse, Farley Farmhouse, Monk's House, Alfriston Clergy House etc). In addition it is an easy short walk to the station to catch the train to Brighton (it was Katie's suggestion we do this - we'd intended driving, but train so much easier). Breakfasts were plentiful and delicious. We thoroughly recommend Amarisa and would happily return.
Tips:
See above
Would Recommend: Yes
Owner Response:
We are so glad that you enjoyed your time with us and hope that the rest of your trip is going well. We would love to have you stay with us again should you return to the UK.
7th June 2017:

Friendly hosts - very willing to give assistance & advice .Good breakfasts freshly prepared for each guest. Only negatives are that the room on the ground floor is a bit tight ( no wardrobe but a clothes rail & small chest of drawers ) and there is some road noise . We stayed for tour nights .
Tips:
Firle village & house are well worth a visit ( even drop into the village hall on a Friday morning for coffee with the locals ) . Lewes and the walking are the main attractions which will draw you back to this wonderful area .
Would Recommend: Yes
Owner Response:
Thank you for your kind comments. We always aim to run a friendly rural B & B, serving a good breakfast to set our guests on their way for the day.
3rd June 2017:

Very comfortable with good access tosurrounding area, A27 giving good link to other areas
Would Recommend: Yes
15th May 2017:

very friendly people, lovely breakfast!
Tips:
Bluebell Walk
Would Recommend: Yes
12th May 2017:

My 10 year old son and I received a very warm welcome for our walking weekend. We were given lots of advice and help regarding our walks too which was an added bonus! My son has reported that his highlight was most certainly the "amazing" breakfast. Thank you so much for making our stay so comfortable, we really felt at home!!
Would Recommend: Yes
Owner Response:
We enjoyed your visit very much. Glad George enjoyed his breakfasts and well done to have walked so far.
7th May 2017:

Hello Amarisa, We had a perfect stay in your lovely B&B Thanks for the help, pick-up service Jo en Marijke Heylen Lier Belgium
Would Recommend: Yes
Owner Response:
Thank you! We very much enjoyed your visit. Best wishes Katie
10th April 2017:

Was in town to do some paragliding and had a lovely stay, would recommend to anyone looking to spend some time in the country side.
Would Recommend: Yes
6th November 2016:

so nice to be welcomed and looked after so well Love the new shower ensuite downstairs makes it so easy for someone with mobility problems thank you
Tips:
had a meal at the Barley Mow very near and good food and service
Would Recommend: Yes
23rd September 2016:

Lovely room and very welcoming hosts that take the effort to ensure a pleasant stay.
Tips:
The Plough Pub is around five minutes along the road by car and both the beer and the food are very good.
Would Recommend: Yes
20th September 2016:

A HOME AWAY FROM HOME We had the pleasure of staying for 10 days in this beautiful B+B, excellent location, exceptionally clean throughout, with all these extra little touches with the decor and ornaments that really made a place friendly and welcoming. Breakfast was also excellent,served in a sunny conservatory overlooking the garden, always hot and on time.Very welcoming owners whose personal touch made for a perfect stay.Nothing was too much trouble for them and were very helpful, suggesting places we might like to visit. Wi-fi was good and a parking space always available for us. Highly recommended. Thank you Katie and Paul for a wonderful visit.
Would Recommend: Yes
4th September 2016:

We zijn hier voor de tweede keer geweest en werden als oude vrienden verwelkomd. We voelden ons erg welkom en hebben weer erg genoten van de gastvrijheid van Paul en Katie.
Tips:
We vinden de natuur in 'The South Downs' erg mooi. Je kunt hier erg mooi wandelen.
Would Recommend: Yes
3rd September 2016:

Lovely hospitality from you both! Plus sufficient social conversation!
Tips:
Too tired to investigate local facilities!
Would Recommend: Yes
31st August 2016:

A great location for the south downs particularly if you are coming by train. Nothing was too much bother. Kate even gave us a lift to the next village so we could start our walk in the Downs. Friendly pub nearby for evening meal. Highly recommended.
Tips:
Berwick Arms was good after a long days walk. Beach Head pub had a great view.
Would Recommend: Yes
29th August 2016:

We very much enjoyed our stay. you were most welcoming and helpful. The 4 for facilities is because we prefer single beds and an ensuite is helpful when we get up in the night - but because the bed was so comfortable and the bedding sensibly light on a hot night and the bathroom so close - no squeaky doors - we were fine and will be glad to book in again next year. Thankyou!!
Tips:
Easy access to Mitchelham Priory - lovely grounds and interesting, well maintained, historic house. We could have spent all day there in the sunshine. Very convenient for Glyndebourne!
Would Recommend: Yes
Owner Response:
We were sorry that we were unable to accommodate you in our twin room ensuite on this occasion, as it was already taken.
24th August 2016:

We loved our stay; clean, bright accomodation with lovely garden and great conservatory for breakfast. Interested and interesting hosts. Nothing too much trouble.
Tips:
Local pub in the village, Lewes and ,of course, Glyndebourne as well as everything associated with Virginia Woolf and friends.
Would Recommend: Yes
21st August 2016:

Would Recommend: Yes
19th August 2016:

We received a very warm welcome from Katie and Paul Ely. Our room was spotlessly clean and very comfortable. Breakfast in the conservatory was delightful overlooking the lovely garden. As we were in the area to go to Glyndebourne our stay was very short, but Katie gave us some helpful hints on local sights and places which we could visit before our return home. Altogether a very pleasant stay.
Would Recommend: Yes
19th August 2016:

Excellent - no complaints at all!
Would Recommend: Yes
10th August 2016:

Very attentive hosts made us feel very welcome and nothing was too much trouble. They were also very informative with regard to visiting attractions in the local area.
Would Recommend: Yes
7th August 2016:

Perfect for the stay we needed. Not the sort of area we would go for in other circumstances. It would be nice to have some milk in the room to have a late cup of tea. Having said that, I'm sure that if we had remembered to ask, it would have been there! Lovely garden flowers. Thank you for the friendly welcome.
Would Recommend: Yes
Owner Response:
Sorry about the milk. I normally put it in the room but as you were going to be late back and up early I didn't do so - apologies. It was lovely to have you visit but as it was so short you had no time to appreciate the beautiful area in which we live!
31st July 2016:

Lovely small B&B in a private house. The rooms are comfortable and tidy. The breakfast is fresh and plenty. We felt completely at home here.
Tips:
The "7 Sisters" (chalk cliffs) are about 20 minutes away by car. Not to mention, that you can reach Brighton easily.
Would Recommend: Yes
28th July 2016:

Another very enjoyable short stay at Amarisa. Comfortable and relaxing in a very convenient location.
Tips:
Good local pub and very convenient for a rail or car journey to Lewes and Brighton. Excellent base for anyone wanting to walk or tour the South Downs and local Sussex countryside.
Would Recommend: Yes
25th July 2016:

Most friendly hosts in a beautiful home where the garden at this time of year is wonderful full of colour. Breakfast choices to suit everyone, nothing was to much trouble .... Thankyou Katie and Paul, Enjoy your summer
Tips:
There is a wonderful restaurant in Eastbourne called Hoi Sum fabulous food very reasonable.
Would Recommend: Yes
11th July 2016:

Katie and Paul were very welcoming. We had the double room overlooking their excellent garden. We were attending a wedding reception at the excellent Sussex Ox pub nearby and Katie gave us a lift to the pub so we wouldn't have to drive. We had Katie and Pauls excellent full English Breakfast which we ate in their very large conservatory overlooking squirrels, woodpeckers and blue tits in their wonderful garden, where they grow their own tomatoes and other veg. The jams served with breakfast were excellent: fig; strawberry; and Katie's own homemade seville marmalade which was quit simply the best marmalade I have ever had. An excellent B&B with excellent hosts.
Tips:
Sussex Ox pub, Alfriston, cuckmere Valley walks, Friston forest bike rides, drusillas zoo Litlington tea rooms.
Would Recommend: Yes
9th July 2016:

It was great, thank you so much, a lovely, friendly place to stay in which we felt REALLY welcome
Would Recommend: Yes
2nd July 2016:

Would Recommend: Yes
30th June 2016:

Very nice welcome
Would Recommend: Yes
Owner Response:
Location is somewhat subjective. We consider that we are very well located for walkers with easy access to the South Downs Way, Vanguard Way and Wealden Way. There are also many interesting places to visit nearby e.g. Michelham Priory, Charleston.
29th June 2016:

Lovely b and b. Breakfast was great!
Would Recommend: Yes
21st June 2016:

A delightful b+b in every respect. Every detail is covered which I found very relaxing. Wonderful interesting hosts, full English breakfast delicious and very comfortable bed. Will return!
Would Recommend: Yes
12th June 2016:

A very hospitable welcome and a comfortable stay
Tips:
If the main road is blocked you can get to Glyndebourne almost as quickly by a "back road" route. The Berwick Arms did us a good lunch, in a pleasant garden - worth a look
Would Recommend: Yes
5th June 2016:

We both had a lovely stay at Amarisa over the bank holiday weekend. Katie and her husband are wonderful hosts. We felt very welcome. Our room was very comfortable. Katie made sure we had everything we needed, including gluten free / diary free options for breakfast, for which we were very grateful. They were also very kind to offer us a lift to some of the local attractions. Thank you so much for a fantastic first stay in South Downs. Highly recommended :) Monika
Tips:
Amarisa is located in a quiet village (Berwick) very near to Alfriston and with easy access to South Downs. Berwck has a train station with good connections to Brighton. It was very easy to get to by train from London Victoria with one change in Brighton. We did lots of great walks and made it to Charleston Farmhouse (near Firle), where the Bloomsbury Group used to live. Glyndebourne and Monk's House near Lewes are also nearby. Lots to do. Wish we could have stayed longer :) Monika
Would Recommend: Yes
2nd June 2016:

Would Recommend: Yes
1st June 2016:

Would Recommend: Yes
29th May 2016:

Would Recommend: Yes
22nd May 2016:

This was the second time that I have stayed at the Amarisa, which is well furnished and very comfortable. The household is peaceful and quiet with a conservatory and beautiful garden. While Katie works tirelessly to keep Amarisa spotlessly clean, Paul works hard in the garden during the spring and summer to ensure that the Amarisa has as much kerb-appeal as possible. Katie & Paul Ely do their best to be as accommodating as possible and really looked after me during my stay. Breakfasts were cooked to perfection - Paul is very precise with his cooking times. Indeed, in the unlikely event of disquiet, Paul & Katie would rather cook a breakfast again to the exact requirement rather than have a guest leave their table dissatisfied. Bird feeder stations in the rear garden attract a variety of birds from the woodland behind Amarisa. The visiting wildlife can be watched whilst eating breakfast. Throughout my stay free, reliable and strong Wifi and fast internet was available – of which I made extensive use when planning where to visit the next day. Overall I found Katie & Paul to be warm, welcoming, friendly and helpful hosts and would have no hesitation in staying at the Amarisa a third time.
Tips:
For eating, the better pubs that I found in the vicinity of the Amarisa are The Plough at Upper Dicker, the Barley Mow at Selmeston and the Rose Cottage Inn at Alciston. Unfortunately that may not be saying much as none of the aforementioned establishments really made an impression during my stay. Will look further afield next time I visit.
Would Recommend: Yes
20th April 2016:

We stayed here whilst down for the Brighton Marathon 2016. Katie and Paul gave us a warm welcome and couldn't do enough for us during our stay with them. A very comfortable & clean bedroom with clean & adequate bathroom. A Very well organised B&B - and they were happy to book us a table at the local pub (3min walk away), tell us about local walks in the area (some long distance trails), we were given a local train timetable (2min walk from station) and even told which time train to take to get to Brighton in time for the start of the marathon. Katie & Paul also arranged a super early breakfast for us on Sunday morning which was very well appreciated (especially being on a Sunday). We would definitely go back - the scenery is stunning and would love to explore more of the surrounding area.
Would Recommend: Yes
6th March 2016:

Tranquil, relaxing stay. Friendly, Kind and homely couple who enjoy sharing their beautiful home with visitors. Clean, warm, comfortable rooms with strong Wifi and a fantastic full english breakfast overlooking a delightful British garden. Even spotted some beautiful robins and one or two squirrels! Would wholeheartedly recommend.
Would Recommend: Yes
Owner Response:
It was so lovely to receive such a warm review from our first guest through Freetobook.
.