Felix House
22 Gundreda Road
Tel: 01273 473250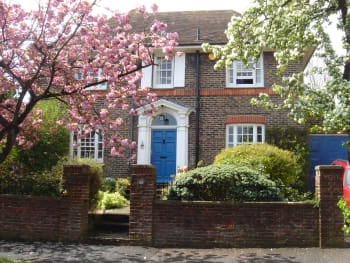 We are a friendly, welcoming B & B in a quiet tree lined residential road in Lewes - approximately a 10 minute walk to the town centre. We have 2 double and 1 single rooms all with ensuite facilities. Our rooms are bright, cosy and well equipped. We have free wi fi in all our rooms. Parking is available just outside the house. We strive to make our guests as content as possible - our rooms have comfortable beds, warm duvets, good sizes bath towels and plugs in the right places! Breakfast is taken in our bright, south facing dining room overlooking the garden. We have 2 very lazy, but friendly cats who you may never see. They do not enter the guest bedrooms! We have a strict "no smoking policy".
Facilities
hairdryer
ironing board available
heated towel rails
bottled water
freeview tv in all rooms
soaps, shampoos, shower gels
Leaflets/books on local information
tea and coffee making facilities
Breakfast Room
Early Breakfast By Arrangement
Internet Access
Policies
Check In: Between 16:00 and 22:00
Check Out: Between 8:00 and 10:30
Wi-fi: Wireless internet is available and is free of charge.
Smoking: There is no smoking permitted anywhere within the property.
Parking: Limited parking is available on site and is free of charge. On street parking is available and is free of charge. Parking is available nearby and is free of charge.


Children: All guests must be 18 or over, no children are allowed.
Pets: Pets are not allowed.
Groups: All groups are accepted.
Average
4.9
out of 5
24 reviews
100% recommend
Reviews
28th January 2020:

Wonderful hospitality, nothing too much trouble. I have already booked for my next stay!
Would Recommend: Yes
24th December 2019:

Excellent... Many many thanks!
Would Recommend: Yes
5th December 2019:

Charlotte and John are the perfect hosts - warm, welcoming and very helpful. John even helped me to de-ice my car on a frosty early morning! Felix House is impeccably clean and very comfortable - warm as toast and plenty of hot water. It feels like a home from home, which I found very important after long days of work on the course I was attending. I don't eat breakfast, but if I had there was plenty of choice and it looked very inviting! Coffee was excellent! I wouldn't hesitate to return and would recommend Felix House unreservedly.
Tips:
Lewes is a beautiful town - sadly I was working during the day so couldn't visit any of the inviting shops I passed on my way to supper! There are lots of hills, which give the legs and heart a good workout and mean that there are beautiful views everywhere. Plenty of choice for eating within a ten minute (or so) walk of Felix House...some good 'chain' restaurants (I ate at both Ask Italian and Cote) and The Pelham Arms pub at the top of the High Street is warm and cosy with friendly staff and above average pub food served most evenings (except Mondays)
Would Recommend: Yes
10th October 2019:

Would Recommend: Yes
19th August 2019:

Beautiful B & B with the most amazing breakfast, we really enjoyed our stay and would recommend Felix House to everybody. A true home from home.
Would Recommend: Yes
27th July 2019:

Would Recommend: Yes
13th July 2019:

Would Recommend: Yes
6th June 2019:

It was a wonderful visit. Friendly and helpful without being intrusive. Great breakfast and good information about the area.
Tips:
If overseas visitors need a SIM card for their phone, there is a news agent opposite the rail station.
Would Recommend: Yes
19th May 2019:

Excellent; cannot recommend highly enough
Would Recommend: Yes
10th May 2019:

Would Recommend: Yes
19th April 2019:

Felix House is an excellent B&B. The rooms are comfortable, well-equipped and spotlessly clean. Charlotte and John are perfect hosts - welcoming, charming and incredibly helpful. Breakfasts are delicious with a very good choice. The house is conveniently situated for all Lewes's facilities and attractions. We look forward to returning.
Tips:
The Pelham Arms (5 minutes from Felix House) is an excellent pub that offers a limited but very good quality menu. Cote is a very good French restaurant. Lewes castle and the associated archaelogical museum is worth visiting, as are the antique emporia in the Cliffe area.
Would Recommend: Yes
2nd April 2019:

I had a lovely 5 night stay at Felix House as I was on a singing course in Lewes. This is a great B&B - comfortable single room with a beautiful view, excellent breakfast and welcoming, kind and helpful owners. Highly recommended.
Tips:
Lots of interesting history in Lewes. You can easily walk up to the Downs within 10 minutes from Felix House.
Would Recommend: Yes
30th March 2019:

Charlotte and John made us feel very welcome and we had an extremely pleasant stay over 5 nights. Everything about the room and the facilities was of a high standard and comfortable. Some lovely touches such as a vase of Daffodils in the room. The breakfast was delicious and there was plenty of choice to suit all tastes. Overall we would highly recommend Felix House due to excellent location, quality of food and accommodation and the care taken by Charlotte and John to ensure that everything about our stay was pleasant. This significantly enhanced our enjoyment of our short break, exploring Lewes and the surrounding area.
Tips:
Recommend Charleston farmhouse for fans of Duncan Grant, Vanessa Bell and the Bloomsbury Set. Take time to explore Lewes itself . Union music store is a great find for vinyl music lovers. The Snowdrop Inn has great beer and live Jazz on a Monday night. Plenty of decent places to eat. We enjoyed Ask Italian and Cote Brasserie. Would have liked to visit The Pelham Arms but very busy.
Would Recommend: Yes
25th February 2019:

Felix House is just amazing.John and Charlotte cannot do enough to make your stay perfect,John even contacted us on our journey from yorkshire to advise about an incident on M25. Our room was spotlessly clean and everything was of high quality .The bed was the comfiest ever. Breakfast was absolutely fantastic with a choice of cereals,fresh fruit, yoghurt and fruit compote like i've never tasted before,then follows whatever cooked breakfast you require!!I would highly focommend Felix house for really good accomodation and perfect hosts in John and Charlotte.
Would Recommend: Yes
12th February 2019:

Would Recommend: Yes
9th December 2018:

I had a lovely stay at Felix House; John and Charlotte were great hosts and it was a pleasure to talk about life in Lewes. The poached eggs were superb and the collection of Dinky models of Triumph Stags impressive!
Tips:
No trip to Lewes is complete without trying Harvey's Best Bitter in The Lewes Arms, tucked away near the Castle. For a country pub, head to The Griffin at Fletching (formerly run by the parents of Piers Morgan) and try the Newhaven Cod & Chips.
Would Recommend: Yes
20th August 2018:

Lovely stay at Charlotte and John's wonderful house. Charlotte and John made me feel very welcome at their house and Lewes, the room was nice and clean with a very comfortable bed, and the breakfast was fantastic and cooked with high quality ingredients. Highly recommended!
Would Recommend: Yes
22nd July 2018:

I just needed a single room for a one-night stay in Lewes and was lucky enough to find this one. The house is in a pleasant residential road about 20 minutes walk out of the main part of the town. Hosts Charlotte and John were friendly and helpful, and Charlotte brought me a cup of tea and a nice piece of Victoria sponge cake when I arrived. They gave me lots of advice about eating out and the best way to look around Lewes. I felt that nothing was too much trouble. My single en-suite room was small but prettily decorated and comfortable. Breakfast was very good, in the pleasant room looking out on the garden.
Tips:
Lewes is an attractive old town of varying architecture with lots of interesting shops and places to eat, and very hilly! There's a castle, Anne of Cleves House, a ruined priory, Railway Land nature reserve, and the beautiful Southover Grange Gardens where I spent a tranquil hour under a tree recovering from the heat. For eating I recommend Bill's, Robson's Coffee Shop, and the tiny cafe in the back of the delightfully eclectic shop called Wickle where I had some delicious local icecream.
Would Recommend: Yes
15th June 2018:

Outstanding, in all respects!
Would Recommend: Yes
3rd June 2018:

Definitely recommend a stay-very welcoming and friendly hosts, lovely house, room in perfect condition with all amenities (thick fluffy heated towels!) delicious breakfast.
Tips:
Erawan (Thai Restaurant) The Pelham Arms
Would Recommend: Yes
30th May 2018:

We had a lovely 2 night stay in this charming B&B. John and Charlotte were very welcoming and informative about local facilities and the breakfasts were fantastic. It was great to be able to leave the car and walk into the town for an evening meal.
Tips:
Easy walking distance to the town where there are lots of individual shops of all sorts - it makes a change to see a thriving high street. Loads of places to eat and drink and Charlotte and John helpfully provide a folder of appropriate local facilities.
Would Recommend: Yes
25th April 2018:

A very good location in a quite street, a nice room and a very nice breakfast. The hosts are very hospitable and caring.
Would Recommend: Yes
9th April 2018:

This was our third of fourth visit. Your warm welcome is always the same. The breakfast is wonderful. We have always been very comfortable. Many thanks!
Tips:
Lewes is a lovely old town. The castle is well worth a visit. Pelham gardens are very relaxing but also fine for children.
Would Recommend: Yes
29th March 2018:

Would Recommend: Yes
.